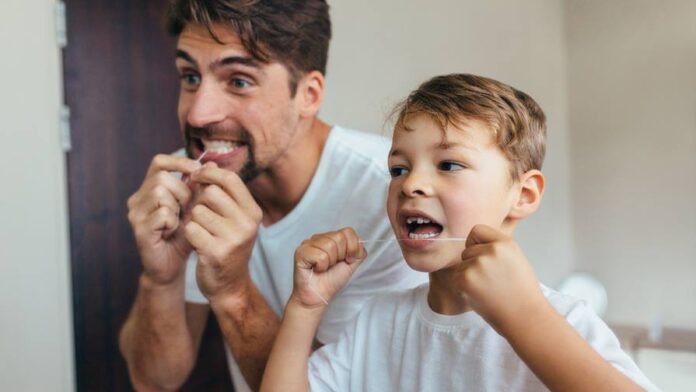 Brushing is a daily routine. Unfortunately, flossing has not caught up yet. There are many parents who struggle to make their kids floss every day. Kids may eat various things that remain stuck to their teeth, especially candies, chocolates, and other sugary treats. Therefore, it is especially more important for them to follow a good dental hygiene routine, which includes flossing. 
If you are a parent struggling to make your kid floss their teeth, a few tips and tricks might help you. Children do not like boring things. So, there is a need to make things interesting and fun to attract their attention. You can use a few techniques or reach out to dentists in Littleton, CO to help your kids learn the importance of flossing. 
Tips to make flossing fun for your kids
Using colorful charts with rows and columns will surely draw your child's attention. You can write the names of all your family members to keep track of who flossed and who did not. You can keep this chart in your bathroom where it can serve as a reminder to floss as well as people can mark their flossing progress using markers or fun stickers. 
Take your child to dental shopping. 
Kids love picking up things on their own in a CO shopping mart. If your child is not showing interest in flossing or their dental hygiene overall, you can take them dental shopping. You may take them to the dental aisle and ask them to pick the flossing supplies of their choice. There are various kinds of floss for children with bright colors and different flavors. This can be a fun shopping experience for your kid as well as make them seek an interest in flossing. 
Start teaching them early. 
Your child is never too young to start flossing. A child's mind is like a sponge that absorbs everything you teach them from an early age. Starting young can lay the foundation of a lifelong habit, and thus, it will give you fewer headaches when you grow up. The perfect time to start teaching your kids about flossing is the age of two or two and a half. 
Make flossing a family affair. 
Kids learn by examples, and their biggest examples are their parents and other family members. If you want your kid to floss daily, you and the other adults in the family have to do it as well. To make flossing a family affair, you could set a time when all the members come together to floss their teeth. Children are likely to remember habits when they do it with the company.