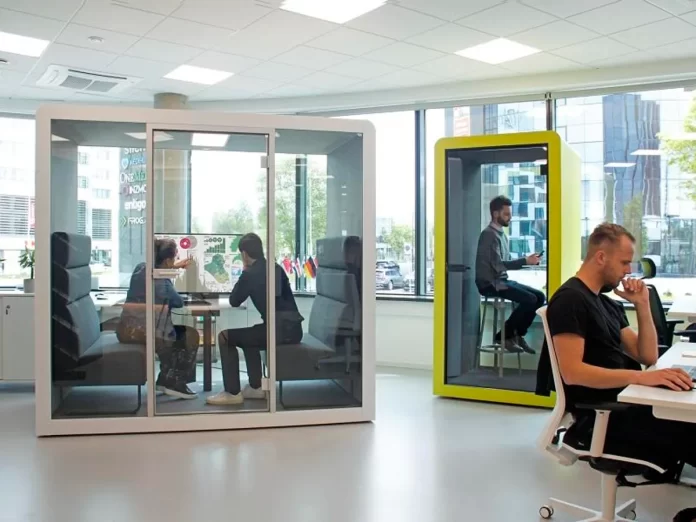 When people decide to work from home, they face several challenges. Distractions, noisy pets, and family members are all standard, but a soundproof office pod can help them overcome these issues and remain productive in their homes.
Designed to look like phone booths, office pods create a separate space from the rest of the home, allowing you to focus and be productive. They are also great for workers with ADHD, autism, or dyslexia.
Flexibility
One of the most important features of office pods for home is their flexibility. It means that they can be adapted to suit the needs of different employees and work styles. As a result, they are a beneficial addition to any office space.
Flexibility is particularly beneficial for businesses and their employees as the workplace evolves. As the number of work-from-home workers increases, it's becoming increasingly common for people to use office space to complete their tasks, which means a need for a workspace that can be changed quickly.
In response to this change in workforce patterns, workplaces must accommodate changing needs and provide an appealing environment for workers. It means that a lot of work is done to ensure that workspaces are safe, comfortable, and convenient for people, which is where office pods for home come into play.
Unlike traditional workspaces, office pods for home are mobile. It is helpful for business owners as they can quickly relocate them to other office areas, ensuring their employees have access to the best possible workspace for their needs.
These pods are available in a variety of shapes and sizes. Some are designed to be used as focus booths, while others are more collaborative spaces that can be adapted for various uses.
As a result, they can be very effective in allowing employees to focus on their work and avoid distractions. They have been shown to boost productivity and reduce employee stress and frustration.
Another essential feature of office pods is that they provide privacy. It benefits employees who are sensitive to noise and need a private place to speak.
For example, it can be precious if an employee has to discuss sensitive information with a client or colleague. Getting the right outcome for everyone involved can be easy with a space to discuss this with them.
Pods can also be used for meetings and small huddles of up to six people. It is an excellent method for people to get together and work together in a relaxed and private setting, boosting productivity.
Convenience
Convenience is the ability to do something quickly and easily with little work. It can be a benefit in any industry.
One example is office pods for home, a new service taking off in the US.
These pods have all the basic amenities employees need when working from home, including a laptop, an ergonomic desk, and multiple electrical outlets. They also have a motion-activated ventilation system and a skylight.
Many people prefer to work in quiet spaces, so an office pod is ideal for those needing an area to focus on a task or project. They can also use them when meeting with a client or during a call with a potential customer.
It is especially true for those working in sales or support who need room to be one-on-one with customers without many distractions. This type of space is critical for ensuring customers are given the attention they need to be successful, which can lead to increased sales close rates and customer retention.
It's clear that hybrid work is here to stay, and if employers want to ensure they can remain competitive in the workplace, they need to adapt their workspaces and human resource policies accordingly. But if they don't, workers will be looking elsewhere, experts say.
Aesthetics
Aesthetics is one of the most crucial components of any work-from-home plan. It needs to be inviting, relaxing, and conducive to productivity. Home office pods offer various aesthetic options, from sleek and contemporary to industrial and rustic.
The aesthetics of a pod can be enhanced by adding artwork, branding colors, and images or biophilic designs to external panels. Alternatively, pods can be built into the walls for a permanent and integrated look.
Office pods for home also provide various sizes to meet the needs of people and teams alike. You can choose from single-booth pods for soft focus, two-pod booths for group collaboration, and even large spaces that give you a private space to work on a project.
Moreover, you can also opt for a pod with sound insulation, which is helpful for phone calls or virtual conferences. However, you should ensure the pod is appropriately ventilated for long-term use.
Aside from a good design, you should also consider the type of furniture you will put in your office pod. Ideally, it would be best to use a pod with adjustable height to sit comfortably when working. It will also help you maintain a healthy posture and avoid back pain.
In addition, you should also consider a pod that can be converted into a standing desk, which will allow you to work at your own pace and reduce eye strain. It is beneficial if you have a lengthy commute or work primarily outside while working from home.
Besides being attractive, office pods for home are also functional and easy to maintain. They are a great alternative to traditional offices, offering various sizes and configurations that make it easy to meet the needs of any organization or team.
Value
A peaceful environment where you can create your best work is one of the essential components of a workspace, whether you work from home or in an office.. That's why it's no surprise that the demand for office pods is growing.
Pods are mini rooms that can be inserted into existing open office layouts. They're an excellent option for managers who need a private office, employees looking to do quiet work, or even extra meeting space.
The demand for private spaces has grown as more and more employees return to their desks after two-plus years of working from home. These people have grown used to the autonomy, flexibility, and solitude they enjoy working from home.
They are also happy to be able to book a space in a shared calendar instead of on a first-come, first-served basis. It is a huge time saver as it eliminates the need to find and assign space.
There are a wide variety of options on the market for office pods. They vary in size and how many people they can accommodate at any one time.
If you're considering incorporating office pods into your workplace, you should know how to choose the right ones. It will ensure you get the most out of them.
For example, if you need to use it for phone calls, you'll want a pod designed for one person to sit in and use a telephone or video call.
Conversely, you'll need something more significant if you use it for a meeting with clients or a team. There are different office pods for all these purposes, and you'll need to decide which will fit your needs best.
If you need help deciding which pod type to buy, consider getting advice from an experienced professional. They'll be able to provide you with expert tips and guidance and answer any questions you may have about how to use the space effectively.