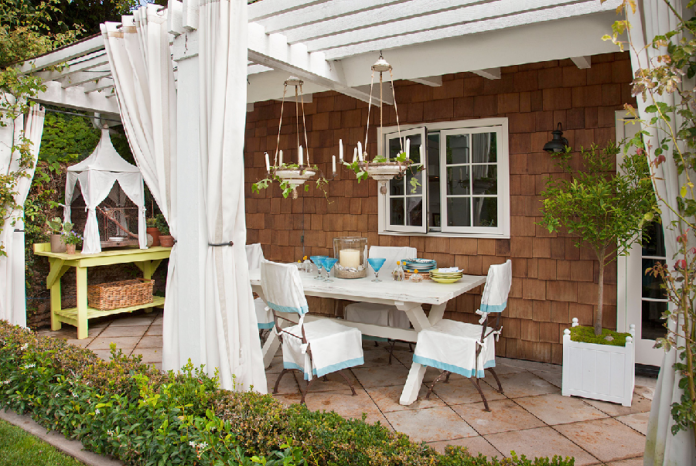 A patio is a great place to bring the whole family together. Summertime finds many families using their patios as a vehicle for parties, meals, or simply spending time together. Refreshing your deck space will give you and your family an incentive to spend more time outside together this year. If you have a limited budget, the following options are for you.
New Doors and Landscaping
Sometimes, all you need to update your patio are some new trimmings. Adding a new door between your home and yard will instantly breathe new life into the space. If your backyard is fenced, you probably don't have to worry that much about privacy. However, open yards or spaces with short fencing will require privacy doors that aren't see-through to protect your home and family. Frosted glass doors are a great way to combine both style and safety, as they prevent people from seeing into your home while also letting in natural light. By replacing your back door, you can instantly brighten your patio space.
Another cheap and quick way to refresh your patio is with new landscaping and trimmings. Whether your porch is enclosed or open, the landscaping surrounding it helps to set the mood. If you have dead plants and or weeds around the border of your patio, it won't feel very inviting and cozy. By putting a little bit of care into the grooming of your yard, you can make it a welcome place for both family and friends. Adding in flowers, yard decorations, or decorative pavers will help you brighten your yard without breaking the bank. By refreshing the hardware and landscaping around your patio, you can instantly give it new life.
Updated Lighting
Another cheap and easy way to redo your patio is with new lighting. If you live in a temperate zone, chances are you aren't using your deck space much during the day. When the sun is out, it gets too hot to comfortably relax on a patio without ample shade and cooling systems in place. Because a good portion of your yard's use will happen in the evenings, having good lighting is essential. One way to get this lighting on a budget is with string lights. These lights plug into a regular outlet and can be hung on clotheslines, awnings, or trees.
If you want more stable lighting solutions, tiki lamps or portable heaters would be a great option for your yard. These lights usually come on either stakes or bases that stand on their own, so you can move them around your patio as you need to. While you may not want a heating element in the middle of summer, many of these heaters offer light and heat in different settings. You'll be able to choose whether you want cozy heat or simply a warm light for your evening. By incorporating updated lighting onto your patio, you can make it a warmer and more inviting space.
Refreshed Furniture and Decor
Finally, updating your furniture and decor will bring instant new life to your patio. No matter what style your home is decorated in, keeping your patio decor modern will make it more inviting and welcoming. If you have furniture on your porch, keeping it clean and in good condition will help prolong its life. It's not economical to purchase new patio furniture every year; keeping it in good condition will help your decor last for years to come.
In addition to keeping your furniture updated, adding pieces of weatherproof decor to your patio will help make it homier. Small additions such as pillows, ottomans, and seat cushions are easy ways to create a cohesive theme for your patio without blowing your budget. No matter what pieces of decor you get, it's essential to make sure they're weatherproof. Unless you plan on taking your furniture inside every time it rains, keeping things weatherproof is a must. By updating your patio furniture and decor, you can make it comfortable for everyone who stops by.
Conclusion
Redoing your patio doesn't mean breaking the bank. With these tips, you can make your porch space unique while keeping your money where it needs to be.
Infographic provided by NewTechWood America, Inc., a composite decking company