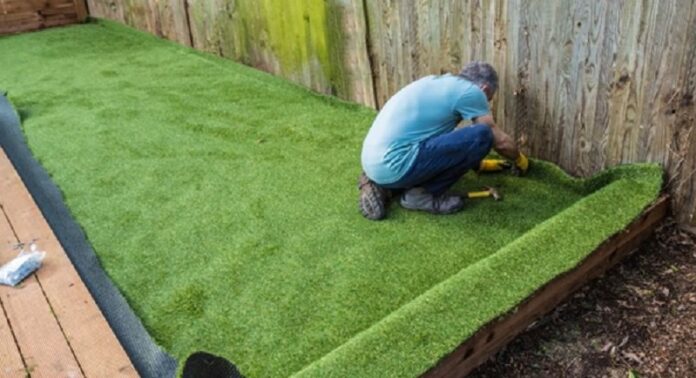 Artificial grass, or synthetic turf, has become one of Australia's most popular landscape elements. Bold, bright and brilliant, synthetic turf provides a stunning space to enjoy the beautiful Brisbane weather. But you can't just go grabbing any old solution you find – you have to do your research!
With this in mind, we have created a few handy hints to ensure you choose a style that is perfect for your home or business. From application to colour, infill and piling, here are the most important tips for choosing the perfect synthetic grass:
Focus on colour
You will find that the best artificial grass Brisbane prices available will be those with colour to match your garden. After all, you want to get the optimal value for your money, so you should seek out a design that matches your garden's natural surroundings.
Take a look at your garden – what do you see? What are the greeny hues that surround your intended area? Do you have plenty of tropical plants that a particular shade will accentuate to perfection? There are many different colour options available, so you want to be sure it is going to blend in seamlessly with your landscape!
What is its application?
What will be your reason for installing synthetic turf? Is it simply for its stunning aesthetic? Will it be to accommodate summer barbies? Or, will you be turning it into a kids play area, with plenty of space to bat and bowl? Whatever your reasoning behind installing this solution, you have to ensure that it is going to suit your needs.
After all, the last thing you want is to install synthetic turf only to then realise that it's not right for your needs! So, think about your reasons behind getting it, and go to work on finding a design that accommodates these reasons to perfection!
Consider piling
Carrying on from the last point, you must consider piling, as this will further determine the style you need for your application. Piling is the length of the blades that come with the solution. So, for example, if you are installing synthetic turf to make a home putting green, you're obviously not going to go for a design with really high blades.
Conversely, if you're going for something that blends in with the garden's natural, earthy aesthetic, you are going to want to choose something with a little more length. The possibilities are fantastic and all come down to why you need the solution.
Do you need infill?
Cutting-edge synthetic turf doesn't require infill to drain and keep the sheets in place. However, certain designs, like those used for play spaces, require infill to ensure the sheets stay in place for many an innings of backyard cricket. Therefore, it is important to once again consider your options, deciding on which style is most suitable for your needs.
If, of course, you are designing a sports area, then you are going to want to choose one with adequate infill, as this will ensure your design stays stunning for years to come!
Choosing the best installers
You should always choose the best installers in the business. Why? Because they will have the skills and experience to ensure your solution is perfectly placed and will look absolutely incredible upon completion. So, check out your potential team's credentials, ensuring they are a team with an awesome reputation and many years of experience laying stunning synthetic grass!