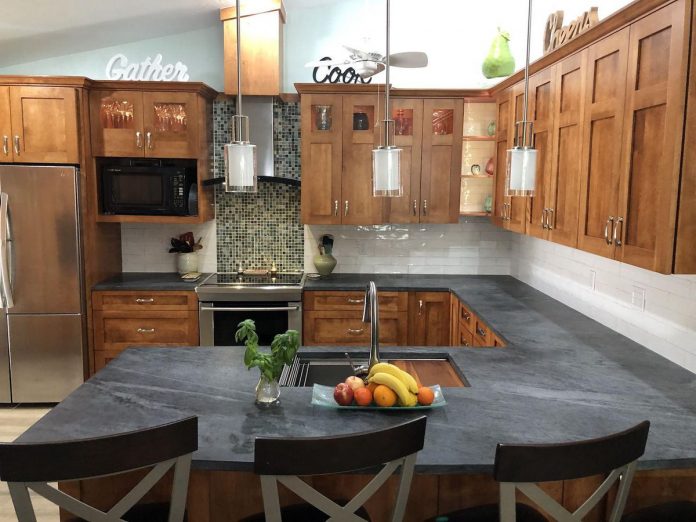 Kitchen countertops are made from durable materials and are usually easy to maintain. Any material that offers a water-tight, durable, stain-resistant, and appealing surface can be used for a countertop. If you are looking to invest in new countertops, this guide will help you make the right choice:
The Basics of Kitchen Countertops
 A basic kitchen counter is 24 inches deep and 36 inches from the floor. Some kitchen countertops come with backsplashes along the back to protect the wall. The majority of them combine a base of plywood or particleboard that spans across the top of cabinets and the finish surface material. 
Countertop edge treatments vary depending on the material. The most common is the square edge, especially with laminates, tile, and wood. Another popular choice is the bullnose, which is a safe and practical edge that makes a countertop look significant. Homeowners who prefer ogee can only have it shaped from certain materials. They can achieve a more decorative look by ensuring the ogee has a detail of metal, wood, or a different colour sandwiched between layers of laminate, stone, or solid surfacing.
Your Choices of Countertop Materials
If you plan to install new Cuisines Rosemere kitchen counters, your choice of material will depend on your budget, your preferred look, and the serviceable qualities you want. In general, the following are the most popular countertop materials you can choose from:
 Natural stone. Natural stone like granite and marble may be expensive options but they tend to last longer than other materials. But, stone requires some care. Acidic substances like orange juice will etch the finished surface of marble while grease will stain granite. Few surfaces match granite for its durability and hardness. Also, it is resistant to scorching, and burns. Meanwhile, marble features rich tones and dramatic veining that make it a sophisticated choice for kitchens. 

Laminates. These durable materials are available in hundreds of colours and patterns. But, hot cookware and utensils can scorch them. Also, they should not be used as cutting surfaces because they are not scratch-resistant. These countertops are made from a thin surface of high-pressure laminate applied to a base of plywood or particleboard.

Ceramic tile. This material comes in a variety of colours and patterns. It is quite durable, easy to clean, and scorch-proof. 

Solid surface. This manufactured composite material is durable and provides a seamless, easy-care surface that usually imitates the look of natural stone.