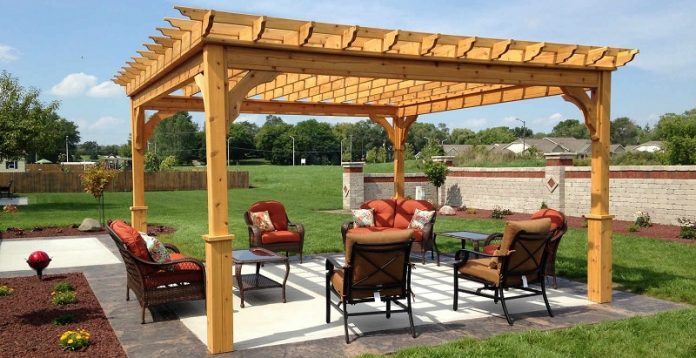 Pergolas are a beautiful backyard and lawn decorative structure that helps outstanding your outdoor decorations. It is available in various types and styles may provide elegance, comfort, and enhances living space to your outdoors. Pergolas have been part of outdoor decoration since ancient times. We find ruins of pergolas in Rome and Latin civilization. The trend of building pergolas in lawns and backyards is getting popular day by day. There are many roles a lovely and elegant pergola can play in your yard and backyard. It will provide you valuable space for conducting different stuff and increase the beauty and much more.
Here are a few roles outdoor pergolas can play in your house exteriors.
Privacy, while enjoying the outdoor space of your home, is such a rare achievement. Not all can enjoy it – but you can if you have one of the beautiful and elegant pergolas built-in to your lawn. If you don't like to display while having family time or my time in your yard, pergolas are meant for you. Yes, it is an outdoor structure, but by adding some drapes or screens or latticework, they provide you a nice share of privacy you desire.
Versatile decoration ideas:
Simple pergolas offer you thousands and thousands of versatile decoration ideas for your outdoors. First of all, you can select from different types of pergolas Vinyl, wooden, fiberglass, and much more. After that, it all depends on how you use them to enhance the beauty of your home's beauty and increase their usage. Love plants; why not decorate it with plants and seasonal flowers. Or why not keep it simple and add some drapes to increase privacy and beauty. Let your creativity flow and decorate the way you want.
Sun Rays are not suitable for your skin, and we often avoid sitting on the lawn to prevent sunlight. Pergolas provide you an extraordinary amount of shade on your property. Now you can enjoy the beautiful weather without fear of getting affected by harmful rays.
According to estate dealers, pergolas play an essential value in increasing the value of your home. It adds more than 20% of value to your home with an attractive and appealing landscape. Pergolas are an economical choice compared to Gazebos, and in the long run, they are a good investment for your property.
Everyone loves outdoor parties. If you are fond of entertaining people and love throwing parties, pergolas will prove a big help. Decorate it occasionally and invite your family and friends. Everyone is going to enjoy the beautiful outdoor view and your decorating sense.
There is no doubt that pergolas provide the best view of your landscape. A simple structure will give an excellent boost to your home for long years.
Conclusion:
Pergolas play an essential role in house exterior. They provide aesthetic to your lawns and yards – give you an extended living space outdoors for long years.