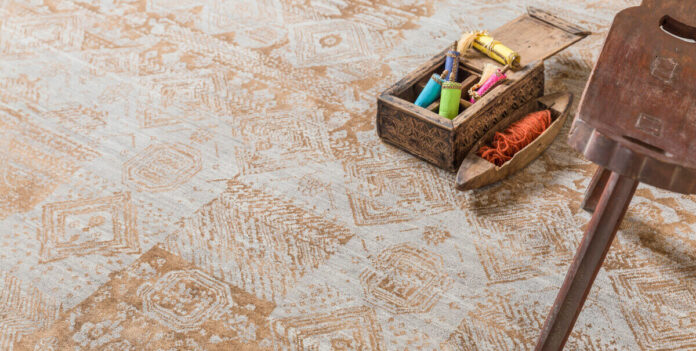 Rugs made in India offer exceptional quality, and the weave in these rugs is extremely symmetrical. Indian rugs are available in Geometric patterns, and the graceful arabesque and floral motifs combine to make them some of the most beautiful and renowned rugs in the world! You can learn about Indian rugs by peeking into our collection, which adds a splash of colour that livens up spaces from the traditional to the transitional. 
Following are some types of area rugs-
Hand-tufted wool is durable and wears well if it is looked after. This type of wool is most suited to domestic environments, and it is made by assembling and beating up the minute strands of the wool which is ultimately stretched on a wide frame. This entire process is done with the help of a tool that is solely hand-operated. The most appealing part is, that this process does not require you to have a time constraint. 
There is a major difference between a hand-tufted rug and a rug that is made from a machine. It is that in hand-knotted/hand tufted, the weaving of the strands which are present in the rug will not be uniform. Hand-tufted Indian rugs are indeed the best!
Hand-tufted polyester rug
Polyester is a material which is non-absorbent. This is the type of material that is not likely to form moulds. The rug is dyed in a way which is extremely resistant to a majority of chemicals, making polyester a good option for people who want a rug that is durable. Polyester has become a viable option for rugs, and it has the following features-
The cost of this rug is less compared to the other types of rugs available in the market.
The material is less expensive to manufacture and you don't need to shell out extra money from your pockets to buy a polyester rug.
You have different types of options that you can consider.
You can even mix and match your style and pick the one that eventually matches your interior décor.
Polyester rugs feel soft under your feet.
Polyester will feel soft on your feet when it is a rug, and you can avoid many pitfalls of scratches and discomfort. 
Handloom wool and Bamboo silk rug
Bamboo silk is a completely natural viscose that is obtained from plants. The sticky paste-like cellulose goes through processing, and then it is dried under the sunlight. After you dry it, the stickiness completely vanishes. After it vanishes, you will get silky fibre. These exquisite bamboo silk rugs are also called artificial silk rugs, and the other name of these rugs is rayon silk. In Indian rugs, a bamboo silk rug is in great demand. 
A typical bamboo yarn is one which is obtained by spinning the fibre manually by hands.
The following are the features of a bamboo silk rug-
It blends beautifully with the wool.

100% natural fibre.

It adds luxury to the home décor
You can check out Jaipur Rugs to get your hands on the amazing collection of Indian Rugs that they offer. Hope this helps!!