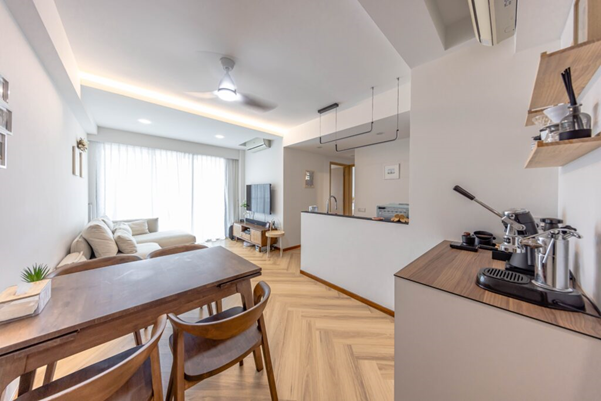 So what advice would the couple have for fellow first-time homeowners embarking on their renovation journey? Qing Jie and Bernice had the following three tips:
Choose an ID whom you trust
It's important to do your due diligence to research and come up with a handful of ID firms to choose from. After all, there are many such firms out there, and so you'll have to ensure that you settle for someone whom you can trust your home with. Apart from reading independent reviews, sometimes it'll be useful to get recommendations from friends who have had positive experiences with a particular firm!
Keep your design plans nimble
When it comes to plans for major renovation works such as built-in carpentry/masonry or installing various features in your home, try to keep things modular, and be prepared to change your plans along the way. After all, there will be minor hiccups and unforeseen circumstances faced during the reno journey, and so you'll need to have the flexibility to adapt to these changes by switching up your plans for a particular feature if needed.
For instance, Qing Jie and Bernice's eventual design had less built-in carpentry than initially planned for; this was so that the couple could easily refurbish their home in the future at a fraction of the cost if they had to remove said built-in features.
Home renovation can be a very costly affair, especially if you're not disciplined in keeping to your budget. Often enough, many couples fall in love with elaborate design ideas that come up during research but are unable to afford the renovation works without breaking the bank. Thus, it's important to stick to your budget, but do cater some breathing room for exigencies along the day (e.g. rise in material/labour cost as a result of the pandemic).
One cost-saving tip the couple have is to rely on your ID's recommended suppliers when it comes to procuring items like small fittings. This is because they usually would have an established partnership with the ID to allow for 1-1 exchanges of similar items, which will save couples some money as compared to outright purchasing new ones.
If you're applying for a BTO, you may wait several years to receive the keys to your home. Try to get the floor plan of your home as early as possible and consult with a reliable interior design team should the layout not be favourable. Having an undesirable layout may sometimes give rise to certain other possibilities that you may not foresee!
Manage your expectations and work within your meansMake sure your budget is well planned out, and let your Interior Designer know about this budget. To cater for more 'backup funds' should you require major structural changes in your layouts – this costs money.
Choose an Interior Designer with sufficient product and technical knowledge
They would be able to advise beyond what you can foresee and have the executional capability to complete the job. Trust is important, and having an interior designer that you can trust to create a home that is a perfect extension of your personality is almost priceless.
Work closely with your Interior Designer and let them know everything about you!Share everything from your dream home ideas to your personal quirks and favourite past times. A good interior designer will be able to weave these into your home design.
This article was first seen at https://beautifulhomes.com.sg/young-couple-that-likes-to-host-vs-undesirable-bto-layout/. Visit beautiful homes to learn more about how they do interior designs.