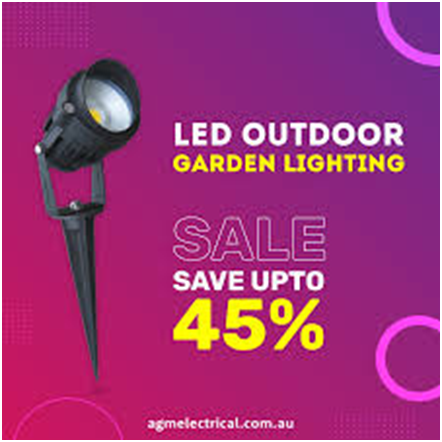 Lighting up the garden is essential when it comes to giving it a perfect look. you need to come up with the right kind of lights that complement the garden at its best. People have to undergo several procedures to get Garden Lights fixed. Wiring and connection are one of the hassles they have to follow. Eventually, it is messy and dangerous at times as well. certain unreachable spots restrict the access of wiring. In this manner, solar and chargeable garden lights by AGM electrical supplies are the ultimate alternative. Let us find out the major reasons you should invest in these options.
Lesser Electrical Consumption
The very first reasons come to light in your pocket. For the house illumination, people are concerned with the designing and the final billing as well. bearing excessive pressure on the pocket is not possible with the garden lights. Investing in solar or chargeable lights will help you to save many bucks. these are energy efficient and come up with better consumption efficiency at times. Eventually, you can make a good deal out of them.
Efficient use of Energy
Such lights for the garden come with an efficient switch policy. Solar lights work automatically at night by getting charge the whole day. Similarly, you can adjust the on and off timings for each of them. it makes the efficient and selective use of energy so you do not have to worry about it.
Creative Placement
There are certain places in your garden where you may think of putting on a light but unable to do so. It is because you cannot reach there with an electrical connection. Either it is difficult or dangerous to put through a wire to that area. With the help of these good to go lights, you can make a difference in the placement strategy. It lets you place and holds the light anywhere in the garden easily. there is no connection require so no mess up out there.
Easy Installation
Mostly for the electrical installations, you have to come up with an electrical worker. The professional will handle all the connections and placements. It seems an additional cost for you. The need for an electrician is not limited to the installation but later fixings as well. with the solar and chargeable garden lights, you do not need to hire an electrician every time. you are good to go with the installation and fixing of these lights on your own. Just follow the package instructions and you are good to work with these lights.
Longer Working life
Although these are, battery-operated options but works more than any regular light. the chances of the short circuit, electrical damage and voltage flow are rare in these lights. Consistent power supply and waterproofing makes these lights workable for a long. You can just install them in the garden and enjoy a good working life.
Quick Replacements
Just in case after some time, need the Garden Lights replacement, it is not a big deal to do it. just remove the older one and add a new one to its place. Since there is no circuit or connection of the lights, so you do not have to hire a professional to do the job. it is easy and quick that you can handle it yourself. All you need it to make sure you are following the instructions. Moreover, AGM Electrical Supplies make it even better for you. they offer simple guidance and support 24/7. You can always consult for the ultimate assistance in case of any trouble with your lights.